Win your mini-leagues with detailed analysis of your rivals.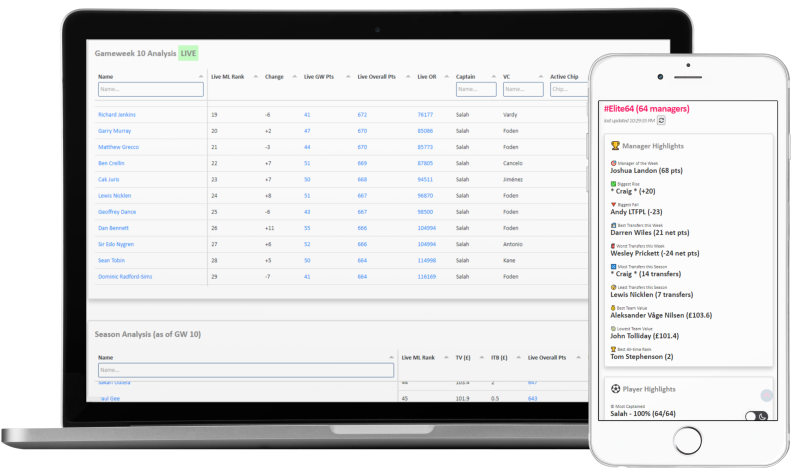 Win Your League
Get more insight on the managers in your H2H or Classic mini-leagues.
Stay ahead or catch-up faster by analyzing choices made by managers in your mini-league. Review transfer activity, find differentials, and more!
Live Ranks & Data
See your live mini-league position, points, chip usage and more even while the gameweek is still in progress! Including automatic subs, captain subs, and bonus points!
Includes league awards, highlights, transfer analysis, captain picks, and much more.
Free on All Platforms
Whether you are on your mobile device or laptop, you can analyzer your FPL mini-leagues anywhere. Apps are also available via App store and Google Play.
Testimonials from Premier Fantasy Tools Users
Robert A.
I just wanted to thank you for your time and effort that you put into producing the website. Your Planner is perhaps the single greatest asset available to FPL managers. Bravo!
MJ - @FPLFanatix
Guys check out this brilliant tool by @PremierFPLTools which provides an extensive analysis of your team with some really cool visual graphics as well! Covers a lot of stuff like points per position, bench and captain analysis, OR over last few seasons and much more! Great tool!
@FPL_Fly
If it personal stats you're after for your own team, then @PremierFPLTools has them – and is tinkering and improving them all the time…